How do I set links on Nofollow? When should links be placed on Nofollow and what does Nofollow actually mean? These are all questions that probably everyone will ask themselves at some point in time when building a website. Personally, I think the topic is overrated and that's why I'm writing this article here.
PS: Of course I will also show you how to set links to Nofollow.
Using Nofollow correctly
Links are incredibly important for the ranking of a website and therefore an important factor in search engine optimization. The more high-quality links lead to a website, the higher the probability that this website will rank high in the search results.
The quality of the links plays a particularly important role. A link from a relevant and frequently visited magazine will get more attention from Google than one of the many affiliate sites. Logical or not?
But this was not always the case. In the past, relatively good results could also be achieved by plastering the whole web with your link. Many questionable sites have taken advantage of this fact and placed hundreds, if not thousands of links on any portal. Google recognized the problem at some point and has been taking massive action against spam ever since.
What does Nofollow do?
It's super important to understand what the Nofollow attribute is for. In Germany, many people tend to set almost every outgoing link to Nofollow – which is completely wrong in my opinion. Therefore I would recommend reading this paragraph carefully instead of scrolling to the solution immediately.
The nofollow attribute devalues links for search engines. In this case you would not pass on the strength of your website to the linked website or simply say: The link is not a recommendation.
But does this procedure really make sense?
To answer this question, we should consider what makes a good contribution. I think one of the most important points is the information you want to pass on to your reader. And good information usually has good sources.
What should be the reason against linking these sources?
With the Nofollow attribute you tell Google not to follow the links – as if they were not there. And thus the mostly good sources are simply omitted. But in my opinion this is exactly what makes a good article.
This problem is not as widespread in the USA as in Germany. Meanwhile I also link almost all links without using Nofollow, because I believe that it even has a positive effect on the ranking of a website.
I even want to go one step further and would say that my approach is bearing fruit. This website here has just 60 posts and some of the posts even rank at number 1 in the search results.
How do I do that?
It's simple: I don't work with tricks. There are so many "SEO-Pros" out there who all have their tricks and I have to honestly say that I don't think much of them. There is a lot to consider when it comes to SEO, but any of these "tricks" can quickly have a negative effect on your ranking.
When to use Nofollow?
Nofollow should be used for links that have been paid for or when the sources are not reputable. Let's say you all write an article about online gambling. I would then not link a casino without using Nofollow. Anyway, I will now come to the point and show how to mark links with Nofollow.
Nofollow with WordPress
Of course, you can also set links to Nofollow with any other CMS – no matter if WordPress or not. But this page is mainly about WordPress and therefore the title. By the way, it makes no sense to set internal links to Nofollow, so here are only the instructions for external links.
To validate links you can do the following: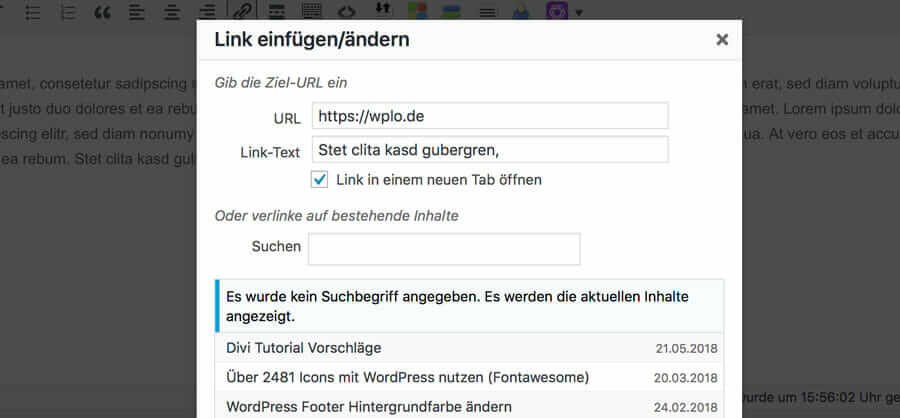 2. switch to the "Text" tab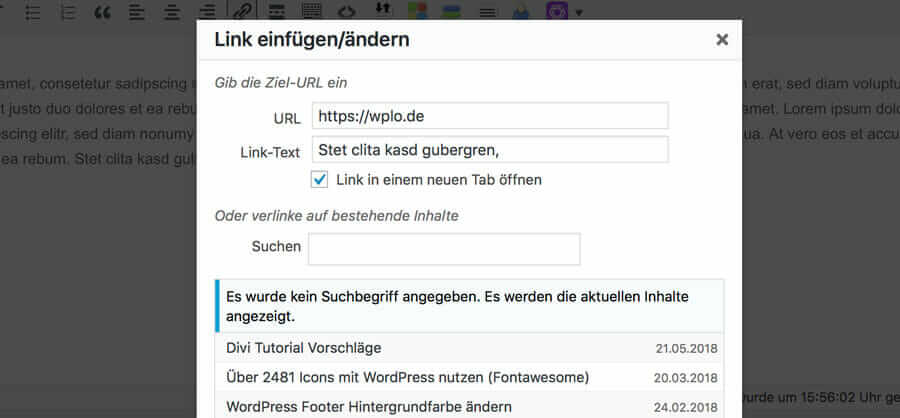 If you liked the article, then we would be happy to follow it on Facebook. More WordPress and Divi Video Tutorials can be found on our YouTube Channel.
Any questions?
Suggestions for improvement or suggestions for further articles? Then use the comment function below this post!
We can also do the tutorial for you. Just send us a request via the contact form.