Today we look at what text translators there are, what they can do and whether it would not be better to leave a professional agency with important content. A particularly sensitive issue is always the translation of texts into other languages.
Text translators as tools
The quality decides
Who does not know it, you have bought a cheap product on the Internet and full of anticipation you open the package. At the latest when you open the instructions, you will have a rude awakening. After a few sentences, you realize that it was not a technical expert who translated the instructions, but the user manual was translated automatically – without being read again by a native speaker. But also foreign online shops like Alibaba for example often have terrible translations of the product descriptions. Besides the deterrent factor, you are simply stuck with such a manual. If a manual recommends to set the vacuum cleaner to destruction, then you have to stop smiling.
Except..;
Check again makes sense
After an automated translation, it certainly makes sense to have someone who knows the language proofread again. Nevertheless, there are also serious differences in the tools. In recent years, most tools have improved enormously and some of them now provide surprisingly good results as text translators.
Let's take a look at some of the tools and test them right away with a simple text.
The language decides
Most text translators are specialized in one or a few languages. There are of course resource giants like the Google Translator. We're looking at translation into English today,. So of course, the quality tested for other languages may differ from the results.
Tools at a Glance
As it is impossible for us to test all text translators, we limit the test here to 9 providers:
But what exactly are we testing here? We will simply translate sentence fragments and show the different results. It is important to note that there is not only one way to translate a sentence. Also, text translators often have difficulties in delivering the correct translation if a term has several possible meanings or the context is not clear to the translation tool.
We would like to thank you for … -> We wish to thank you for …
Please contact us again if … -> Please contact us again if …
The results
Let's come to the results.
PONS
The user interface at PONS is very nicely done, you can quickly achieve the desired result. The only point of criticism is the really exaggerated insertion of advertising. This is annoying but understandable, after all the provider has to finance himself somehow. Nevertheless, he could also think about making the advertising a little more discreet. Maybe one would be tempted to click.
Here are the translations that PONS has provided:
We would like to thank you for the fact, that
Get in touch please again with us, if
As you can see, the first text differs from our translation, but it is still correct. With the second text, PONS is already starting to skid and jolts a little. PONS is one of the leading text translators and a good choice for online translation.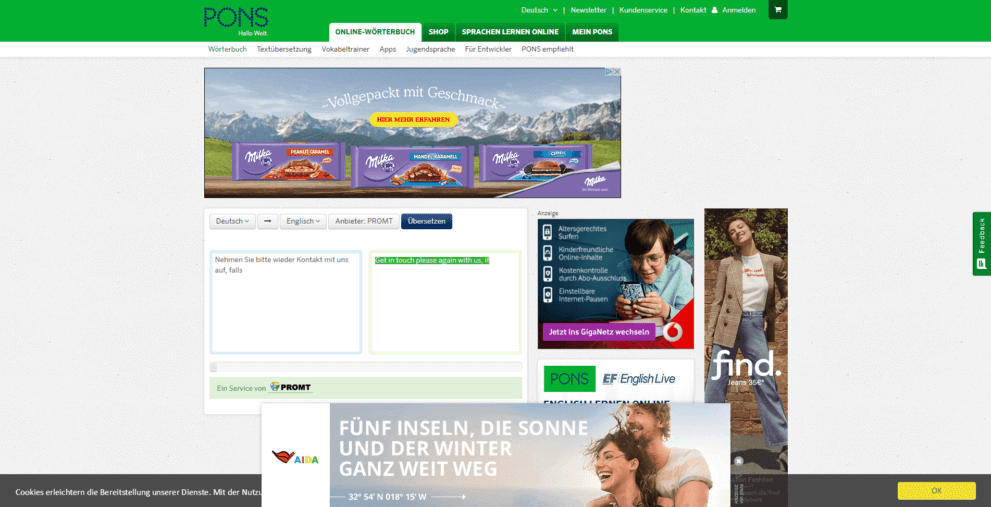 OnlineTranslator.com
Let's move on to the next translation tool. Online-Translator.com can be a lot of fun to work with, as the advertising is integrated discreetly and in harmony with the design. Another nice detail is that you can also rate the translation. The user interface has a good usability, even if the design offers some suggestions for improvement. Nevertheless the overall concept is right.
Here are the translations provided by Online-Translator.com:
We would like to thank you for the fact, that
Get in touch please again with us, if
As you can see, the translations are the same as for PONS.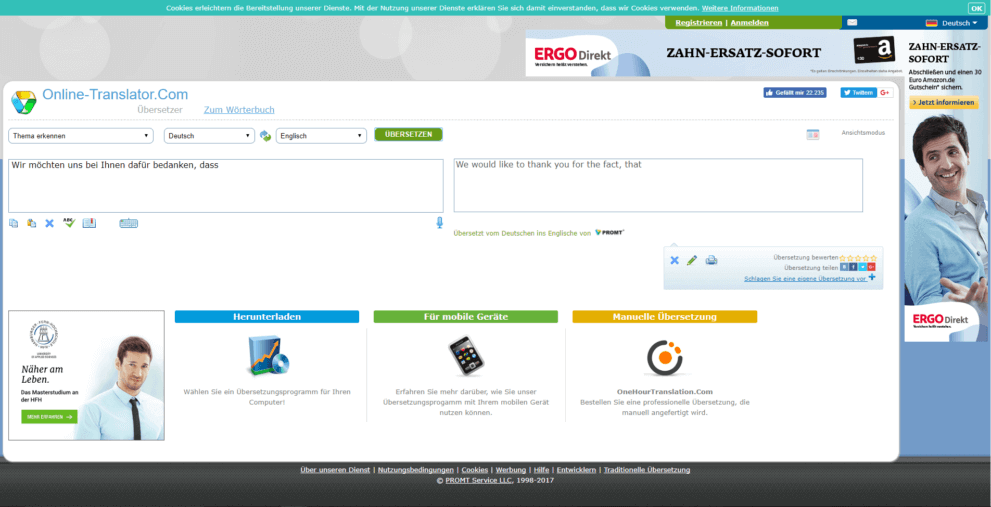 Google Translate
Google Translate is probably one of the most used text translators. The absence of advertising makes the site very clear. The language selection at Google Translate is phenomenal. But we concentrate here on English translations. I claim that I am not lying when I say that Google probably has access to most of the language resources in the form of texts in the world. I don't think you need to explain who Google is.
But let's look at how Google handles translations:
We would like to thank you for that
Please contact us again if
In terms of translation, Google stands out and performs significantly better than its competitors. Both translations are correct.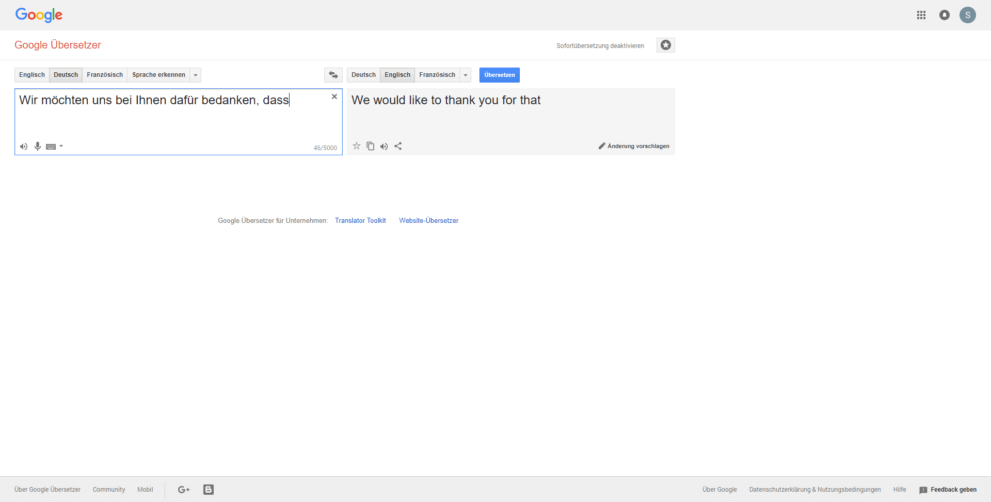 Twigg
Twigg is one of the rather unknown tools, but still has a good visibility on the internet. Twigg's Translations impresses with little advertising and shows itself modestly through links to other translation sites. Of course there is a lot of praise for this. The menu navigation and the design are very well done. Clear lines and little distraction.
But let's take a look at how Twigg handles the translations:
We want to us to you thank that
Again, please take contact with us, if
It is interesting to note that the results are completely different from any other text translator. Is there a different algorithm or does the tool access a different database? We do not know!
Both translations are not the yellow of the egg, although the second translation, even if not completely correct, is almost better than that of other market leaders.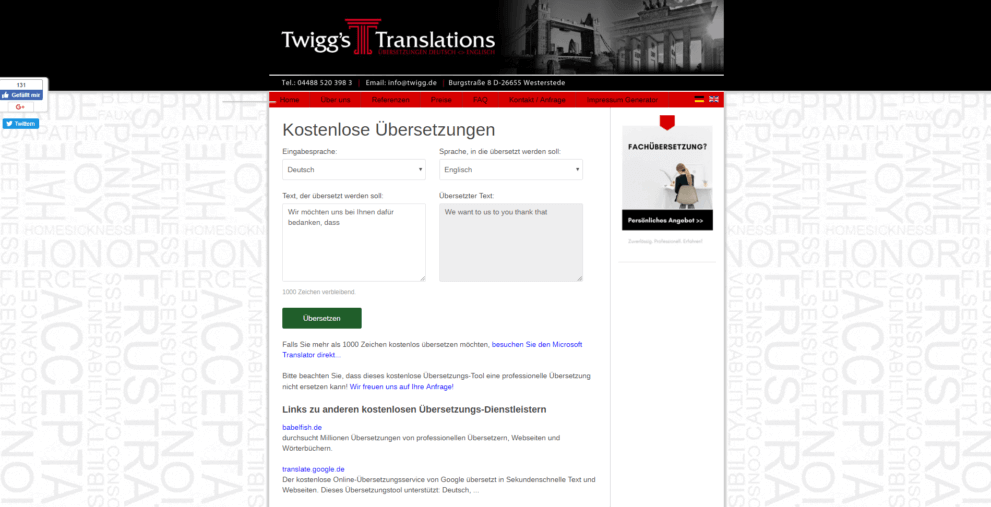 CENGOLIO
CENGOLIO convinces with a clear structure and little advertising. Actually, the design is very beautiful and also harmonious. Nevertheless the buttons should be revised. The chosen language covers the button "translate", this does not have to be. Beside the tool Text Translator you can apparently also hire the agency CENGOLIO to translate a text professionally. This is of course a nice option. Especially if one is offered the quote for free and the contact via mail and phone is quickly obvious.
Let's see what CENGOLIO has to offer:
We would like to thank you for that
Please contact us again, if
Here the translations are identical to those of Google Translate. What this is all about would have to be tested more extensively. Nevertheless the translations are very good. A big plus point at this point. CENGOLIO can also be rated again.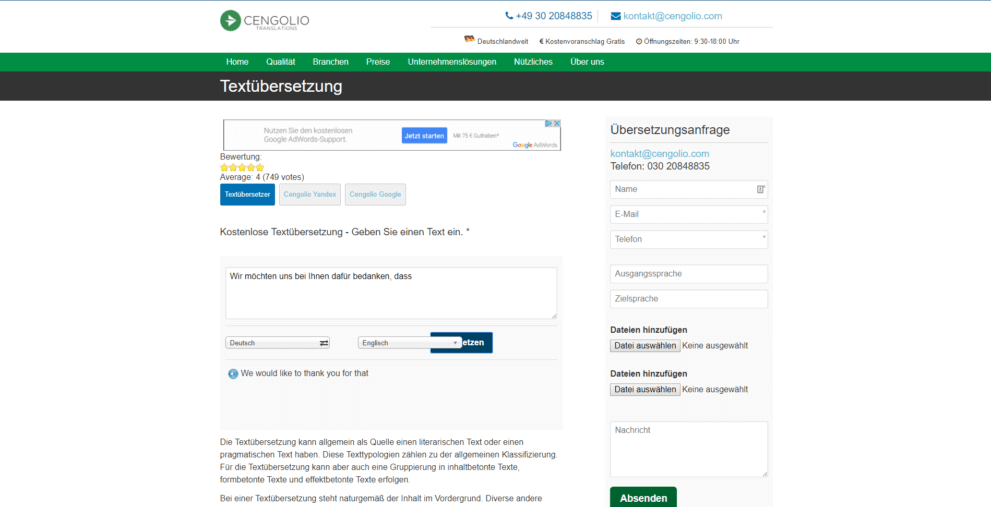 LEO
Even though LEO is an impressive reference book with an extremely large community, the translation is rather disappointing. Here you can see possible sentences and words. Of course, this prevents the problem that the result could be wrong, but a real text translator is not.
Nevertheless, LEO remains a brilliant site with many useful features.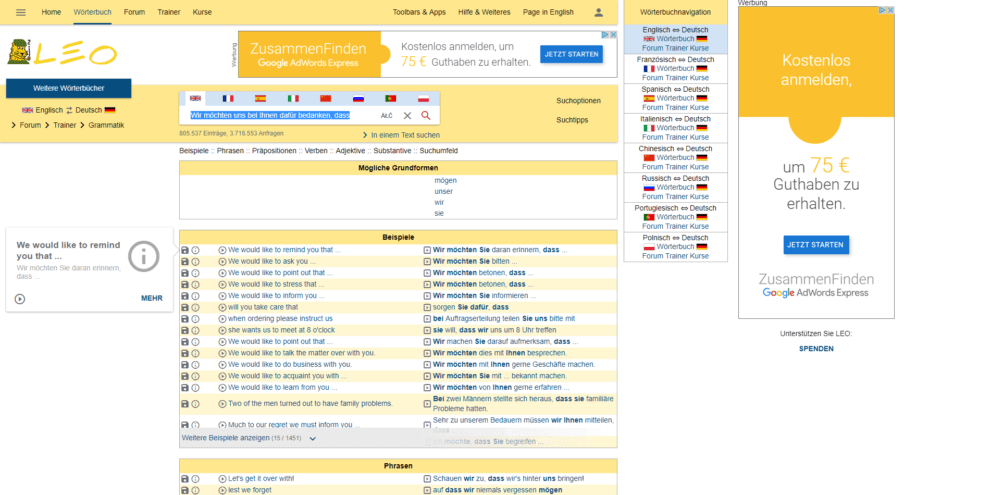 Linguee
Linguee does not work as a real text translator either, but takes a completely new approach to translation into English. Here you will be shown translations of other texts which might match the words or sentences you are looking for. This can sometimes be very funny, as you can often see the context of the translation and make sure that it is appropriate. We find the page very good.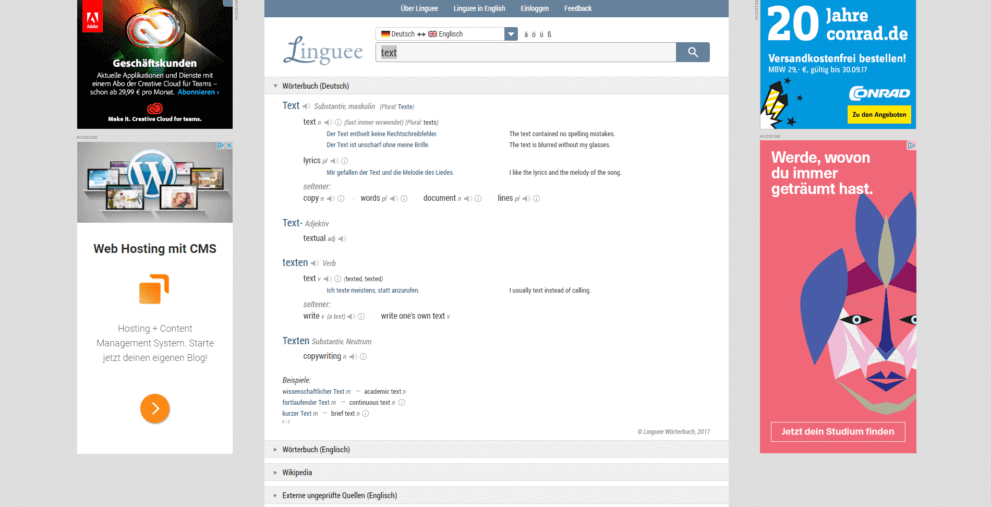 babelfish
Let's get to the last tool in the test – babelfish. Babelfish looks very unusual at first sight. No advertising, small simple design, great clarity. As you can see in the picture, babelfish searches millions of pages for professional translations.
Babelfish not only provides machine translation, but also shows translation examples of other pages, similar to Linguee. Here are the results:
We would like to thank you for that
Again, please take contact with us, if
The translation is surprising, since the first translation is identical to Google's and the second to Twigg's. How the translation algorithm works here would be interesting to know.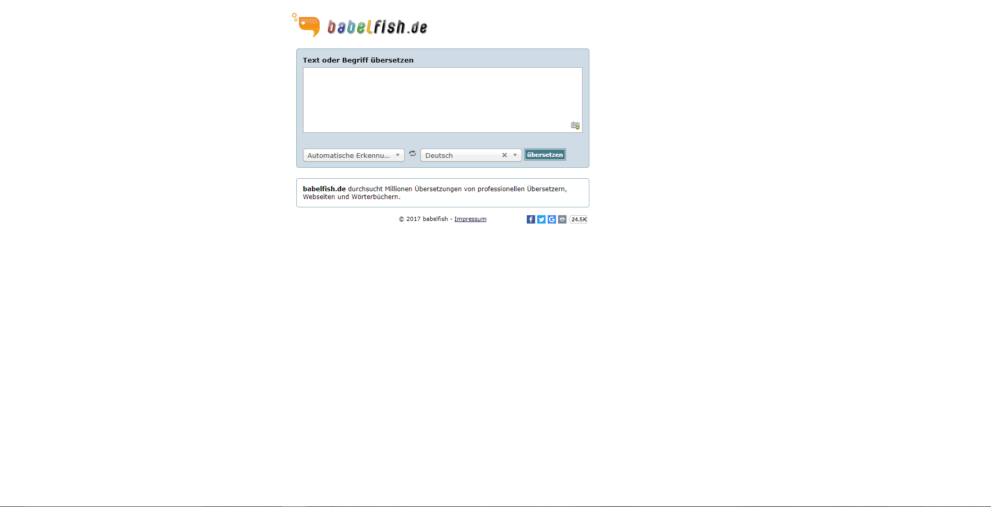 Conclusion
Our conclusion is that all the sites mentioned are very good tools. However, they do not replace a real human text translator, especially for long texts that need to be technically correct. Nevertheless, it is impressive how far text translators have come these days and we are looking forward to the future to see what will happen here. At the latest when the first mature AI arrives, things will probably improve again.