If the keys glow in ours, then you need a preliminary check before the customer's texts go into editing. What is cheaper and easier than an online spell check? We show you which online providers are the best at spelling in German and take a spelling test to see how the programs react.
Spelling & grammar check
In order for us to analyze the various free tools at all, we need a set that we test. Here we deliberately build in mistakes in order to check the grammar correction (here especially the comma setting). The sentence looks like this: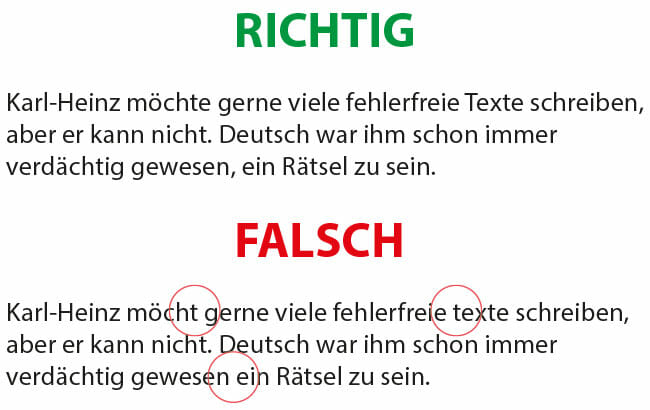 Spell check free of charge and online – which tools are available?
We are looking at eleven vendors. If you think we have forgotten one and should test it, feel free to leave a comment. Not all tools can do the same, often the services go far beyond spell checking online. Let's take a closer look at the functions.
rsp24 – Spellchecker24 – our favourite tool
Rechtschreibpruefung24.de is probably the best known tool besides the Duden. Not yet as long in business as the primitive Duden, but convincing with strong free service. This tool has it in itself, not only with the spell check online. The usually very accurate spelling and grammar checker shows errors in red and green. You can check the spelling not only in German for free, but also in many other languages such as English.
Additionally, you can do a readability and filler word analysis. Very useful is also the keyword density check, even if the result list here might be a little longer sometimes. It is nice that you are not limited to a short text length like in the dictionary, but can also analyze very long texts. Up to 20,000 characters are possible. By the way, the online spell checker has even more functions. Already after a free registration you can save texts in the cloud, load from the cloud, load from other text files, print texts, create PDFs from the texts and use other check criteria.
Evaluation: Unfortunately spellchecker24 did not do so well in this text, but we can assure you that the tool itself is great in daily work.
functions: Spell check, grammar check, filler word analysis, word density analysis, readability analysis (further premium functions)
Costs: extensive functions in the free version
Test result: Very good (despite test result)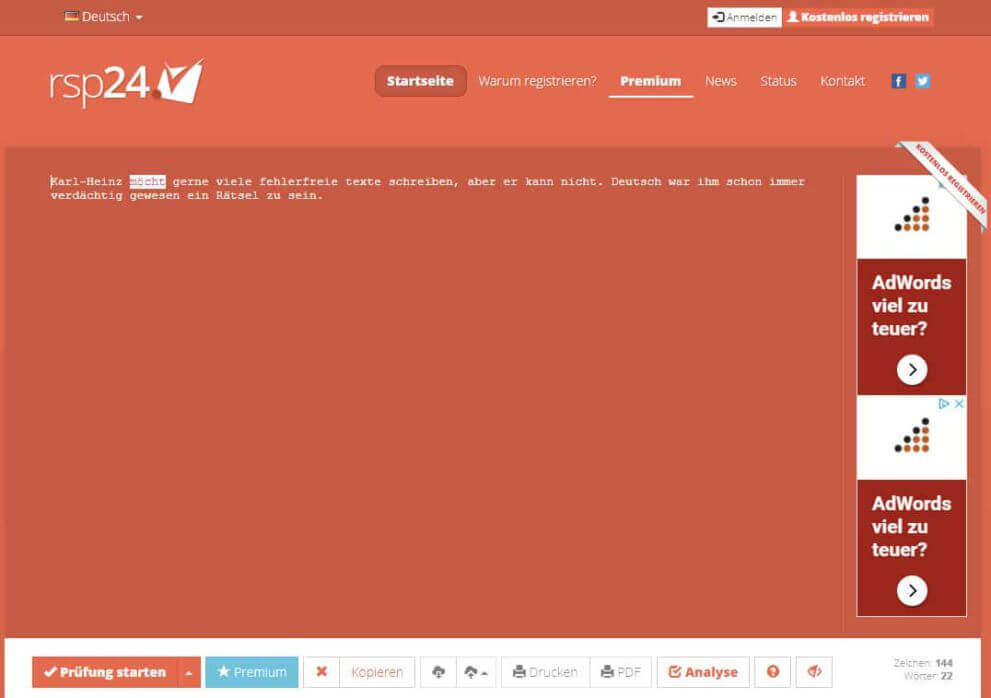 Duden
With the Duden the spell check is also possible free of charge. Everyone who has ever held a book in their hands knows the Duden. Unfortunately, you will not find many additional functions in the Duden, but it is very accurate in error analysis. Unfortunately the limitation of 800 characters is a hard limit. This means that you can only check small texts or have to subdivide the text, which takes a lot of time.
Evaluation: Duden detects a comma error, but ignores all other errors.
functions: spell check, grammar check
costs: free of charge
Test result: Very good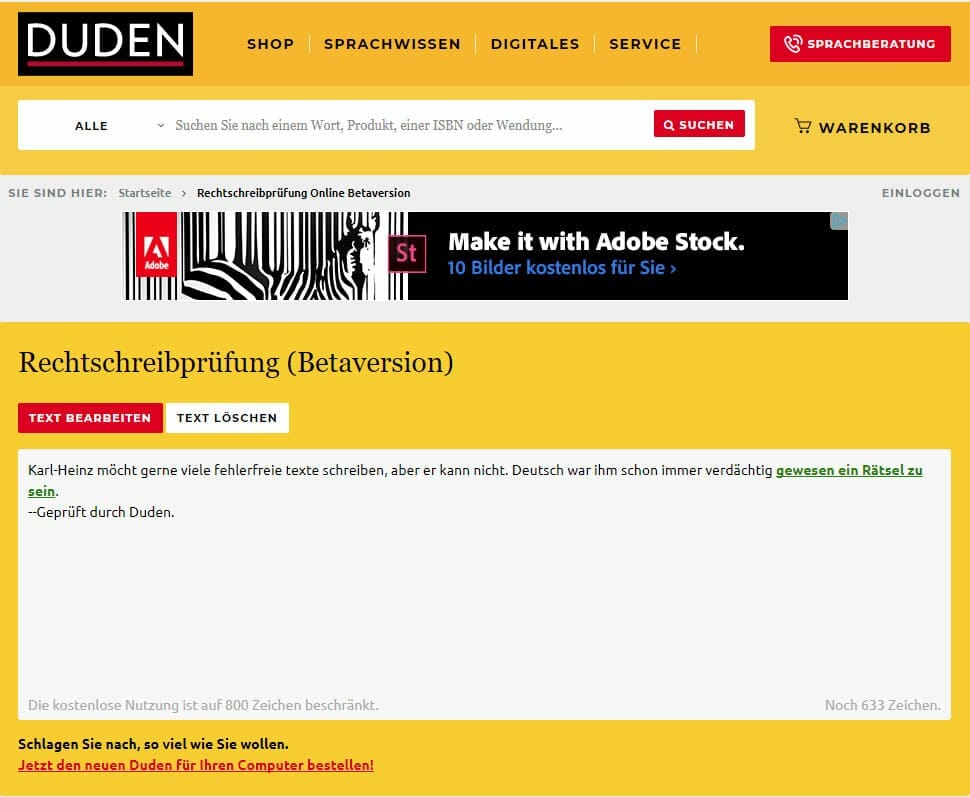 Check spelling
The page rechtschreibung-pruefen.de is very simple and you have to take care that you click on spellcheck in the upper right corner, otherwise you will end up on an advertisement. The structure and the handling are very simple.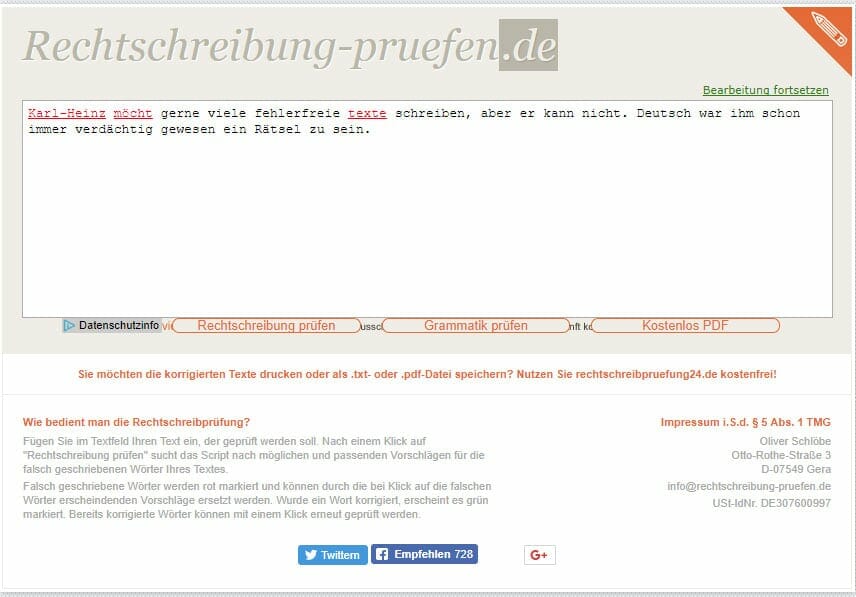 Evaluation: rechtschreibung-pruefen.de notices two errors, but also has something against the beautiful German name Karl-Heinz. Strangely enough, a link at the bottom of the page makes the old, well-known spell checker24 palatable.
functions: Spell checker
Costs: free of charge
Test result: Very good
LT Language Tool
Language Tool is available as paid and free version. We are testing the free version. This tool is also manageable in terms of its functions.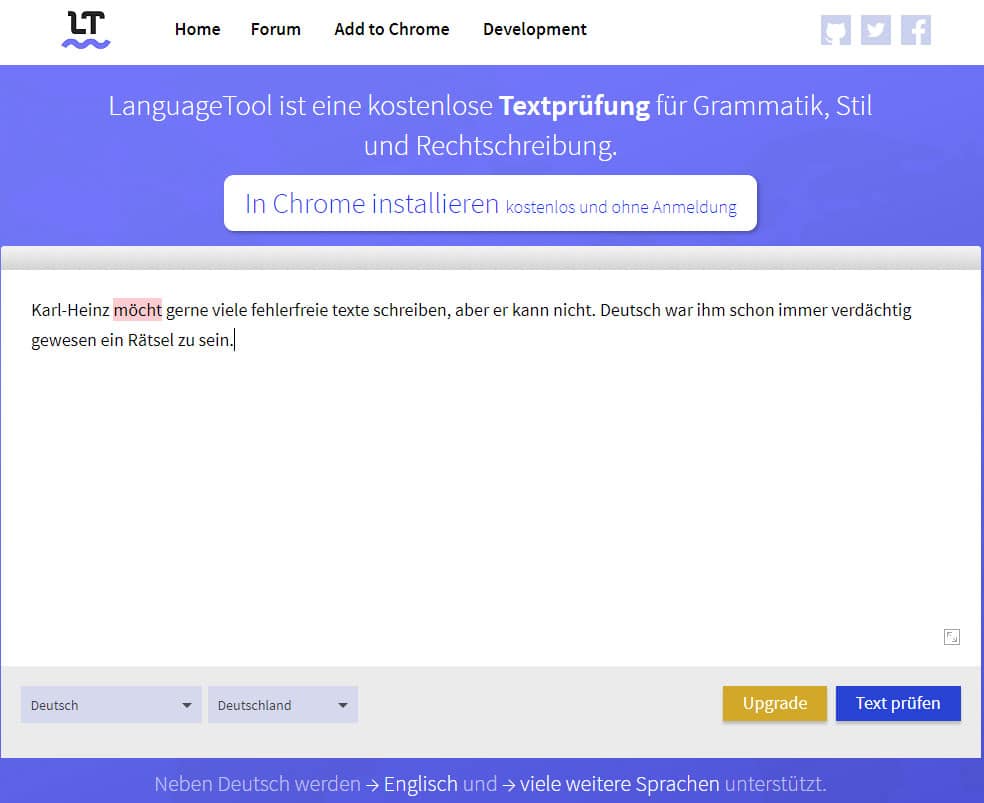 Evaluation: Language Tool finds an error.
functions: Grammar, Style and Spelling
Costs: free variant
Test rating: Good
corrections.com
With korrekturen.de you can immediately check small texts and sentences for grammar, spelling, punctuation and style. As the provider admits, the tool is based on that of Language-Tool. We find the unlimited character length good.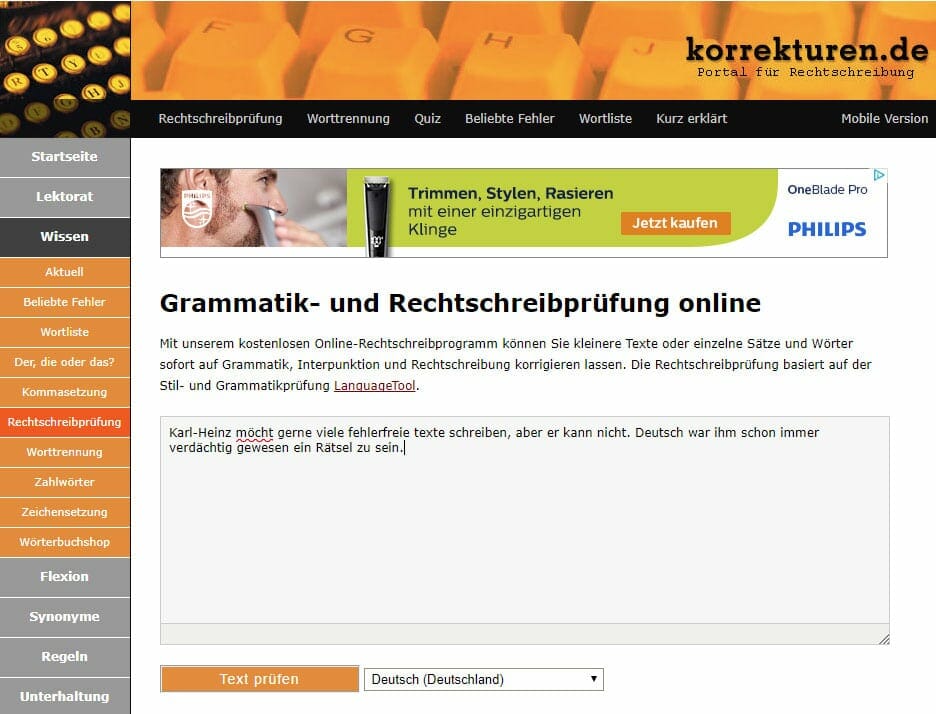 Evaluation: Since the spell checker online is based on the Language Tool, it finds the same errors.
functions: Grammar, style and spelling
Costs: free variant
Test rating: Good
onlinekorrektor.de
With onlinekorrektor you can check for spelling, grammar and stylistic errors. In addition, you can have the errors corrected automatically if you wish, but you should always be careful. The user interface is pleasantly clear.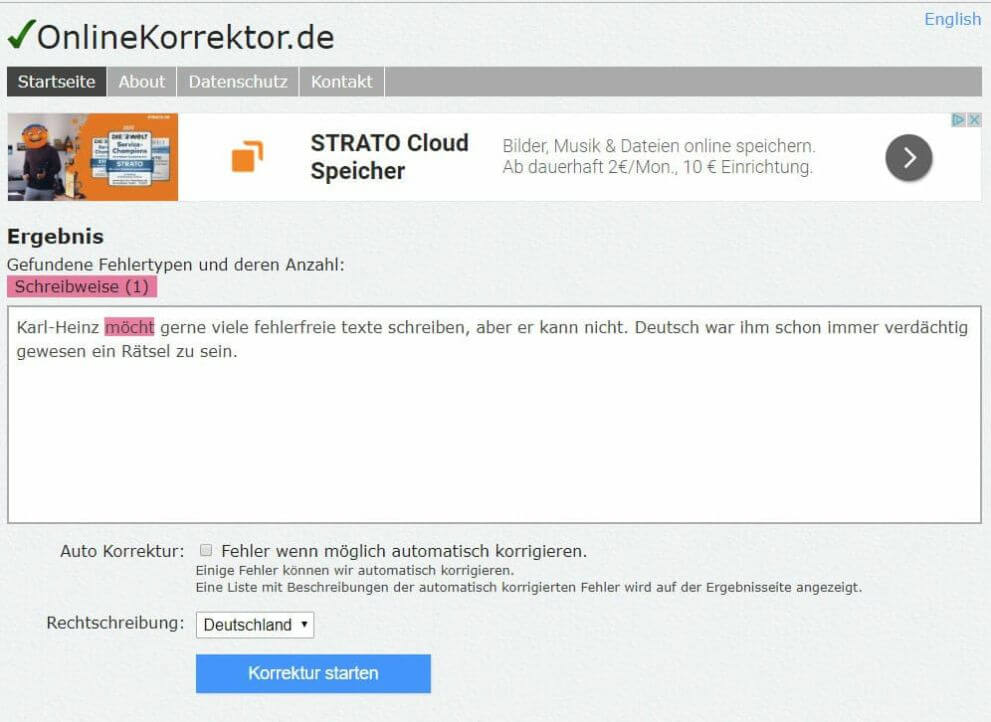 Evaluation: An error is found.
Functions: Grammar, style, spelling and automatic correction
Costs: free of charge
Test rating: Good
Canoo
Also Canoo offers the possibility of spell checking online. Not only the spell check itself is nice, but also the fact that you can determine whether the spelling is checked for new or old spelling.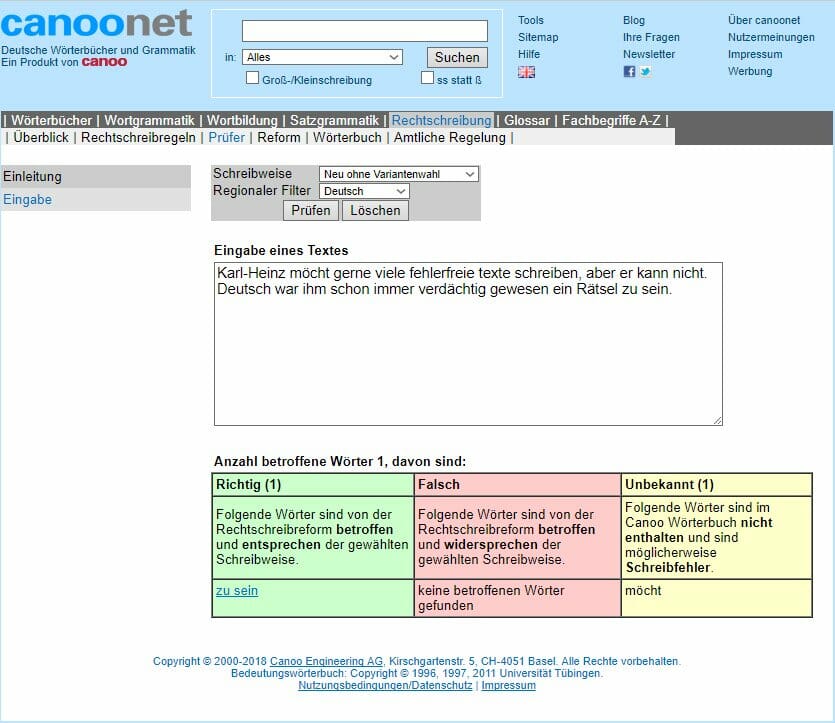 Evaluation: Unfortunately no error was found.
Functions: Spell Check, Grammar
Costs: free of charge
Test rating: Satisfactory
Online-Spellcheck.com
Another provider is Online-Spellcheck.com, where you have many additional functions. For example you can display a sample text, recognize the language, check the text for grammar and spelling, load the text from a URL, upload a file or use a cloud. On the other hand you get detailed statistics about the text afterwards.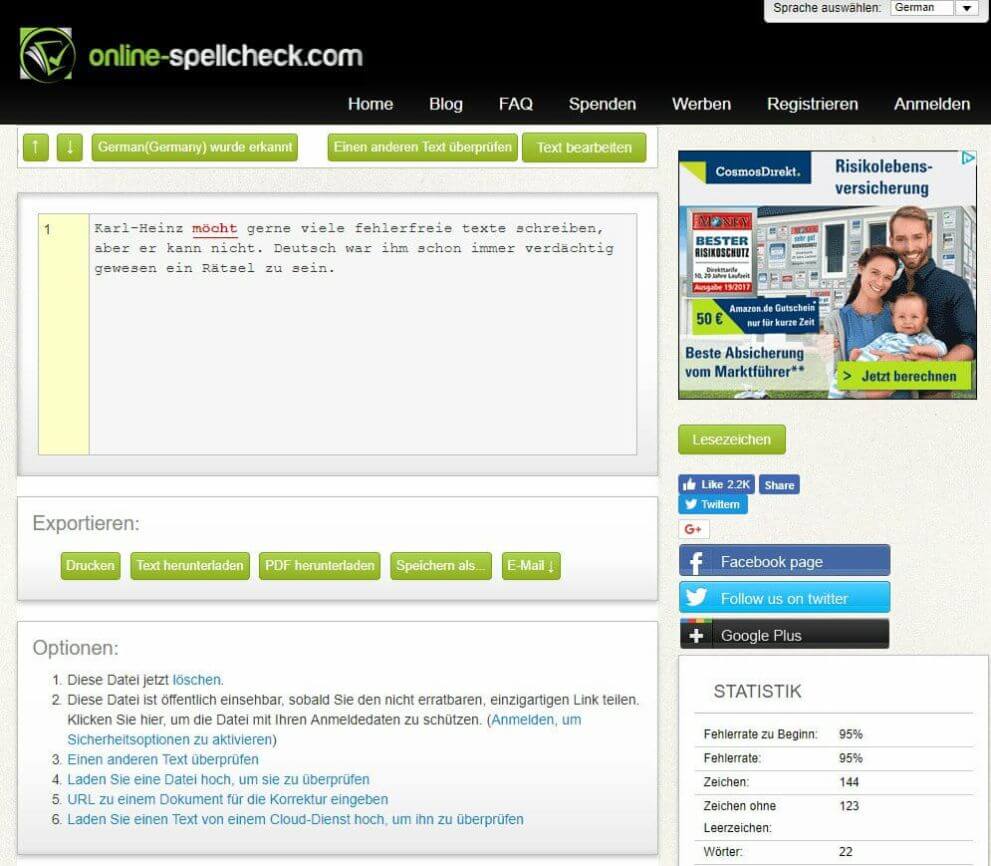 Evaluation: An error was found.
Functions: Spelling, Grammar
Costs: free of charge
Test result: Very good
Google SEO
Google SEO offers, among a variety of other tools, the analysis of texts with regard to spelling and grammar. Not so nice is the default setting for English and American. Since you finally landed on a German URL, the German language should be preselected. The advantage is that you can select many languages and even use auto-detection.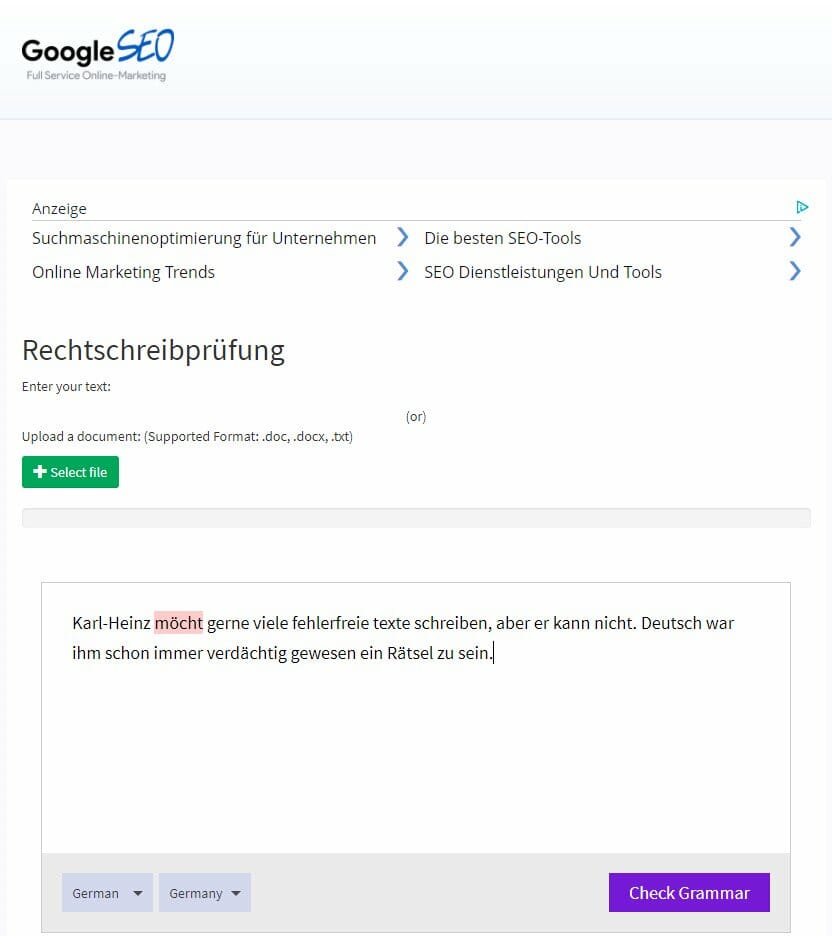 Evaluation: An error was found.
Functions: Spelling, Grammar
Costs: free of charge
Test rating: Good
spell-check.com
Rechtschreib-Check.de offers not only a friendly and pleasant design, but also the option to enlarge and reduce the entered text. On this page you can test the texts in German, English and French.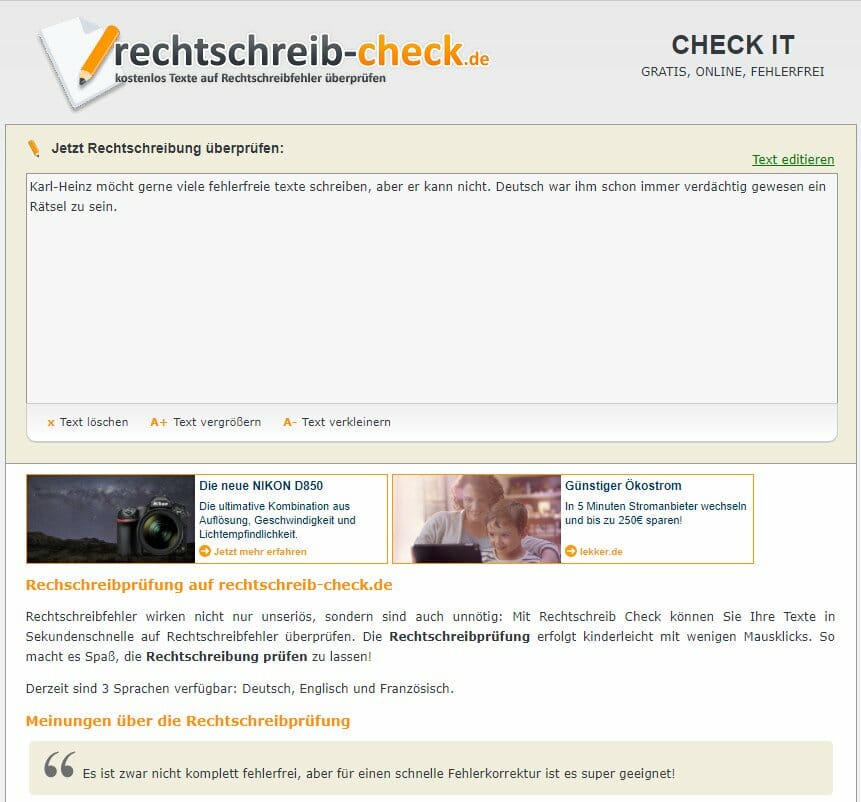 Evaluation: No error was found.
Functions: Spelling
Costs: free of charge
Test rating: Satisfactory
plagiarisma
Also Plagiarisma can perform a spell check. However, you have to smile a little, because here are two requests to the user, which do not sound quite right. Who will discover the errors? ? The result and the correction suggestions are also very funny.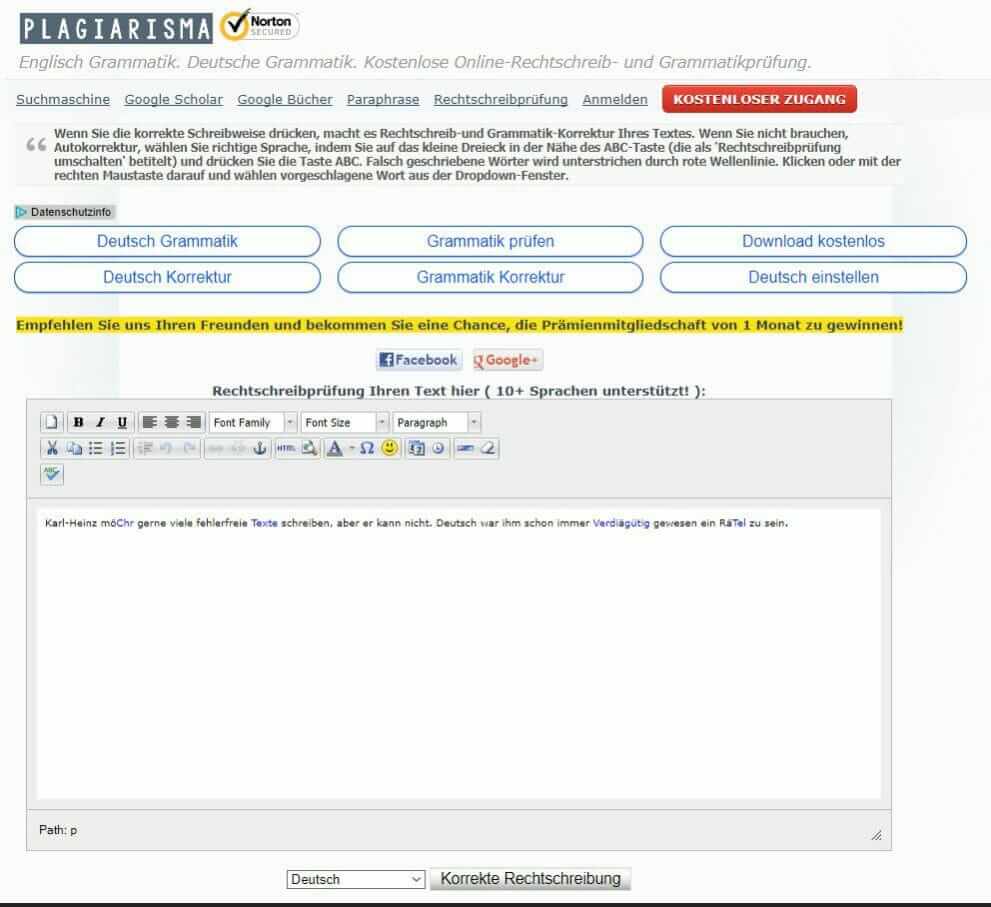 Evaluation: Witty
functions: Spelling
Costs: free of charge
Test result: unsatisfactory
Summary spell check online
There are very many providers for spell checking online. Not all of them can do the same and none is perfect. Nevertheless, the market leaders are much more accurate than smaller tools. The tools are useful for a short check, but if you write texts professionally, you will not be able to avoid proofreading. Have fun trying them out!