Time and again our customers ask themselves whether buying texts is a sensible option. Providers like content.de or textbroker.de seduce with extremely low prices to buy all texts for their own website. At first glance, such offers also sound wonderful. Only about 2 cents per word for a professional text that is also search engine optimized. What you should pay attention to when buying texts and what you should avoid is shown in today's article. We also show where you can buy texts.
What makes a good text?
Content seems to be the new miracle cure that helps you to advance your website to the top of the search engine. And indeed, we as SEO Agency write countless texts with our editorial staff every day to improve the ranking of our clients. However, you should still keep in mind that content is not the only ranking factor, but one of over 200 factors that determine how the visibility of a website develops.
If we now look at pure content, there are various quality factors that determine the value of a text. Before buying text you should make sure that these are met.
Quality criteria
In order not to go beyond the scope of this article, we only touch on the most important features of an SEO text here. If you want to know more about this, you can read more about it in the article Create content. It is important to know that a text is not just a text and that search engines like Google take a close look at the structure and layout of texts. The first step is to analyze the keyword density, structure, linking and readability. But if you meet all these criteria perfectly, you are still far from reaching your goal.
The search engine will now test how valuable the content really is based on user behaviour. If the website visitor reads the text to the end, the user jumps off, does the user continue to search Google on the topic? The analysis of the behaviour shows us that it is not enough to write the perfect SEO text, you have to buy texts that inspire the user and additionally fulfill all SEO factors. Who now thinks that this is all, is far from it. If a search term is highly competitive and your website is still in its infancy, meaning you still have low visibility, then it will take some time until the site really ranks. For this you have to build visibility and become an authority in your own subject area.
Buy Unique Content
A good text must be fun, solve a problem or amuse the reader. Above all, it must be unique, easy to read and correct in content. And don't be stingy with links to other websites. The search engines don't like it if your website is a dead end. In order to avoid passing on the value of the text, you can store the NoFollow attribute in the HTML code. But this is only necessary if it is an advertising link. Links to editorial content can be left on follow, that is the purpose of the internet.
Quality of purchased texts
At the beginning of our agency we calculated how much editors and how much the content portals cost. We decided to hire a small number of editors for the time being and to cover the remaining text requirements of our customers via the content platforms. But we soon realized that a really good quality can only be achieved if you are also an expert in the subject and have a long-term perspective.
There are many good authors on the portals which can be booked by direct order. But here the price is then quickly at 12 cents per word. If you want to have a spellchecker on top of that, you pay extra. That is clearly too much. Our best copywriters cost the customer 4-5 cents per word and that includes editing.
If you now say that the quality of a 4-star author is completely sufficient and that not all SEO factors are fulfilled optimally, you should consider that the time needed to check for spelling and content is additional. If you also have to work on the text, you will quickly be back to 10 cents per word. If you don't regularly work with the same author and the author doesn't independently look for the places where good content is most lacking, you will spend a lot of time briefing the author, picking out the texts and creating the order template with your own ideas.
For those who have almost no money and can't write their own texts in any way, portals with low bids are a good alternative.
Provider for content
Content can be purchased in many places. Each provider has its own advantages.
content agency
A content agency is a good solution to get high quality texts at a reasonable price. With a content agency you have the big advantage that the communication is flawless. You are always in direct contact in person or by phone and you don't have to try to improve the tonality or the content by e-mail. There are many content agencies, also in quality and price there are differences. If you don't commission us immediately ? you should pay attention to the following points:
Price per hour or per word?
How is the order placed?
In what way are the texts transmitted?
How do you check that the text has not been transcribed?
Is the author familiar with the subject?
Is the same author always responsible for your topic or do they change?
Does the content agency write its texts with its own editors or does it buy them in?
Can the content agency show texts which it has clearly written itself and which rank first on Google?
Of course, there are many more things that can be questioned, but for a rough estimate of the performance, the questions should be sufficient. If you are unsure, we will gladly offer you a free consultation.
Content.com
Content.de is one of the market leaders when it comes to buying texts. With more than 6000 independent authors offering their writing skills on this platform, there is plenty of choice to find suitable authors. Compared to other content platforms, the quality is above average. From just 2.2 cents per word, you can book 4-star authors here who can provide you with texts for your blog, web shop or your own company presence. The service is also impressive. From our own experience we can confirm that the feedback is always prompt and friendly. The only shortcoming we see is that you are only allowed to write with the copywriters via email, which is quite understandable for reasons of self-protection.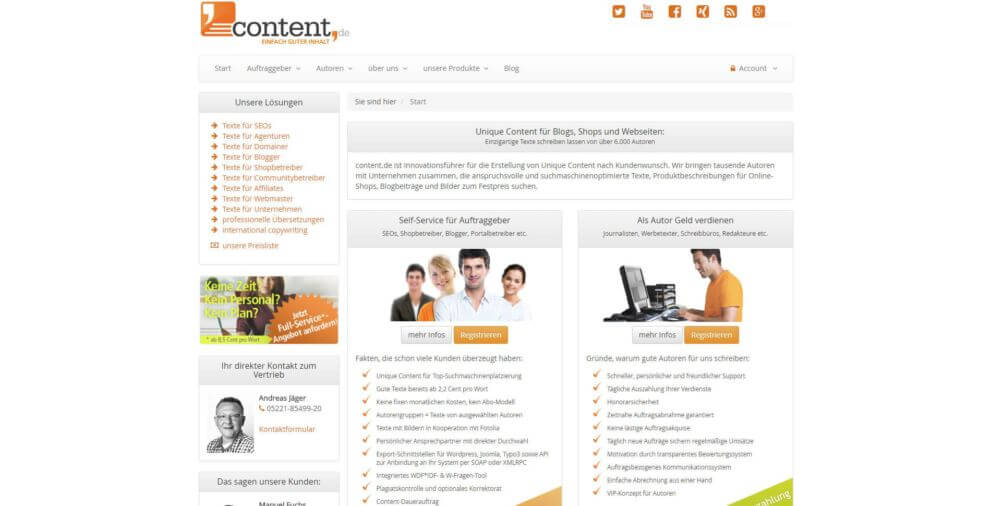 With a ready-made order mask, you can either place your text orders freely on the marketplace and determine the quality of the author in advance, or book directly desired authors or create a group in which experts work together to manage your project. In addition to plenty of well-known references, Content.de convinces with a variety of functions, such as a plagiarism checker.
text broker
Textbroker.de is also a size when it comes to buying texts. Here too, the model is knitted in a similar way to that of Content.de. Via openorder you can discover new authors at low prices. Often more expensive authors write here, who want to give you an impression of their quality. With up to 15 different languages you can also build multilingual websites.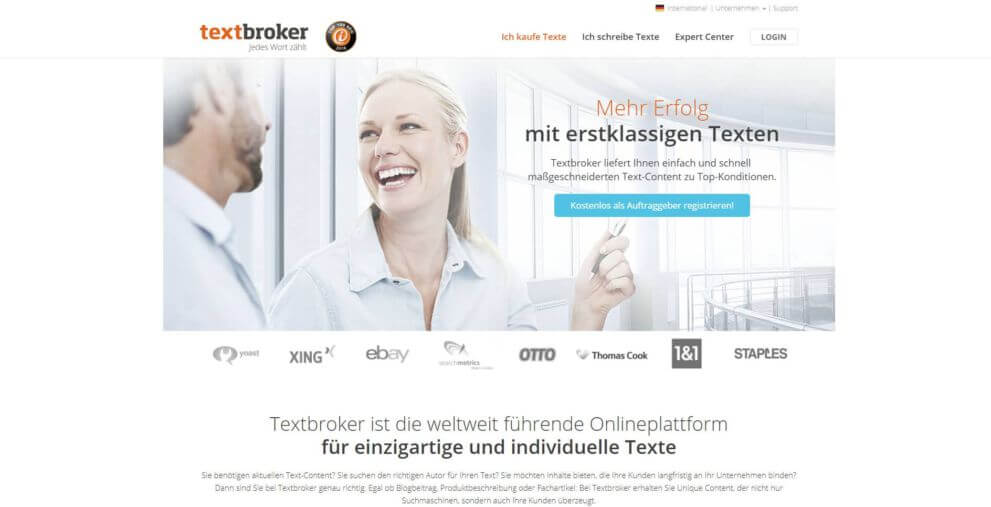 The ordering process is kept very simple and also offers the layman the possibility to place new orders quickly:
If you want to set up larger content projects, you can also use the Managed Service and outsource the complete creation and development of texts to Textbroker. Such projects can already be implemented on this platform from 2500 Euros.
SEO text prices – price list copywriters
Whether buying content for the blog or buying editorial texts, everything can be outsourced nowadays. Let's take a look at the service and prices of the providers. If you are quick at the keyboard and have a little time, then of course there is no better author than yourself who can write about your subject. If you now complain about yourself that you have no idea about SEO, then why not book a training course with us. After just a few hours you will learn how to write SEO texts and provide your site with the best content you can get.
Many text portals, which have been identified in other blog posts, already do not exist anymore. That's why we focus on 8 providers in our list. This already gives you a good picture of the price list for copywriters.
| Anbieter | Preis |
| --- | --- |
| Unsere Agentur | 3-5 Cent pro Wort (je nach Komplexität des Textes) |
| Content.de | 1,3 (2-Sterne-Autor) - 7 Cent (5-Sterne-Autor) pro Wort |
| clickworker.de | 1,3-10 Cent pro Wort |
| fiverr.com | ab 2,6 Cent pro Wort |
| onlinetexte.com | ab 8 Cent pro Wort |
| pagecontent.de | 1,2-3,82 Cent pro Wort |
| Textbroker.de | 1,3-6,5 Cent pro Wort |
| textscout.de | 1,2-6 Cent pro Wort |
what to look out for when buying texts
In addition to good communication, it is always important to be able to rely on the quality of the research, as otherwise you will have to re-read the entire text and the text will become priceless. The following factors are important when buying texts:
Expert knowledge
Added value
SEO knowledge
Installation of links
Plagiarism protection
Conclusion Buy finished texts
So there are many things to consider when buying texts. There is nothing worse than to publish texts with wrong content on your own website. Beside many content agencies there are a lot of possibilities to get unique content with the platforms. How good the quality is and how well the texts fit to your brand can be found out with a relatively small budget. If you have any questions or would like an individual offer, please feel free to contact us. We would also be happy to give you an insight into our references from various subject areas. This way you can quickly get an impression of whether our quality and writing style suits you. We look forward to your inquiry!